SAN DIEGO COUNTY, Calif. — Bushfires continue to create havoc across the Australian continent and over one billion animals are believed to have been killed.
As part of an Australian wildlife rescue effort, San Diego restaurants plan a fundraiser on Monday Jan. 20 in which they will be donating a percentage of sales to support W.I.R.E.S., (Wildlife Information, Rescue, and Education Service).
W.I.R.E.S. is the largest wildlife rescue & rehabilitation charity in Australia and provides rescue and rehabilitation for all native Australian animals.
The following restaurants will donate 25% of all sales on Jan. 20:
Union Kitchen and Tap (Encinitas)
Union Kitchen and Tap (Gaslamp)
Pacific Beach AleHouse
Backyard Kitchen and Tap
Waterbar
"This is a disaster on a global scale where so many people and animals have been affected by this disaster, and we just want to do our small part," said Chris Cox, COO of OMG Hospitality Group.
All City Taco locations (North Park, La Mesa, Imperial Beach, Encinitas) will donate 10% of all sales from the day.
"We are just hoping to raise as much money as we can and support Australia during this time, so we're getting the word out for people to come dine at any location on Monday, January 20th," said Gerry Torres, owner of City Tacos.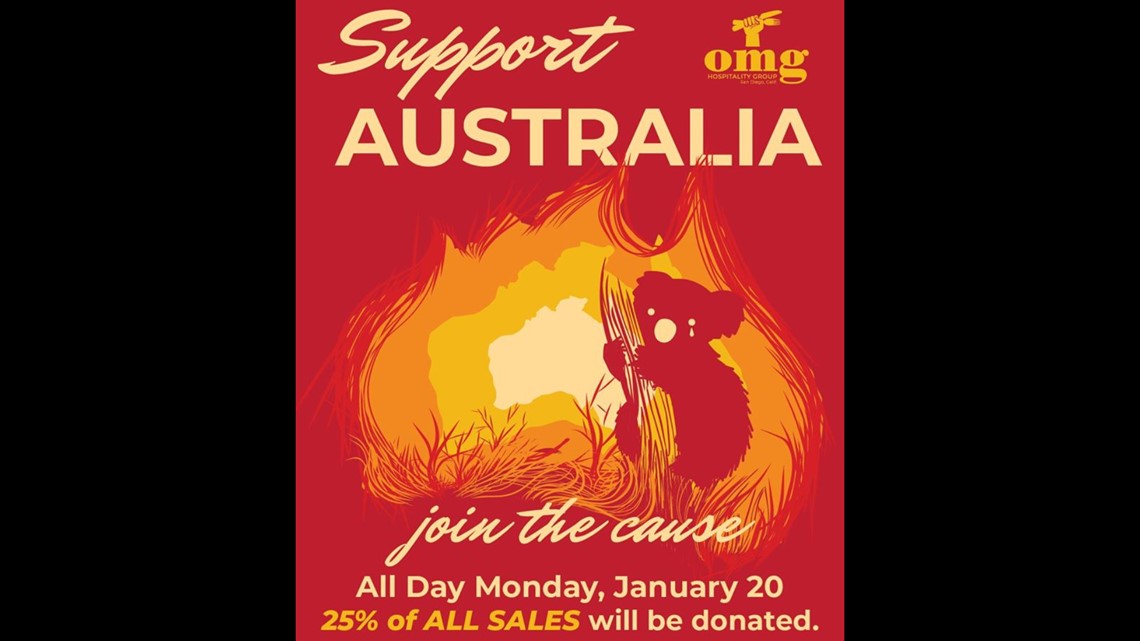 San Diegans are also spreading the love through pet adoption.
John Van Zante, spokesperson for the Rancho Coastal Humane Society, Encinitas said 20% of the fee for every standard adoption, 100% percent of the adoption for senior pets, and 100% of all donations made by the public will go towards helping animal victims in Australia.
All the money raised from OMG Hospitality Group and the Rancho Coastal Humane Society will go to W.I.R.E.S. on Valentine's Day.