SAN DIEGO — As sunny conditions prevail across the South Bay, something most San Diegans haven't experienced in weeks, most beaches in the South Bay and beyond were closed due to sewage contamination.
More than 14 coastal areas were covered with signs warning beachgoers that bacteria levels in the water tested higher than normal, prompting officials to close or extremely limit access to one of San Diego's main attractions, our warm, deep-blue ocean.
"Water quality at this beach is generally good during the summer months. However, when the Tijuana River (or other transboundary sources) is flowing, and near-shore ocean currents are moving from south to north, sewage impacts associated with these flows can result in closures during the rainy season," said a warning statement referencing the Imperial Beach shoreline.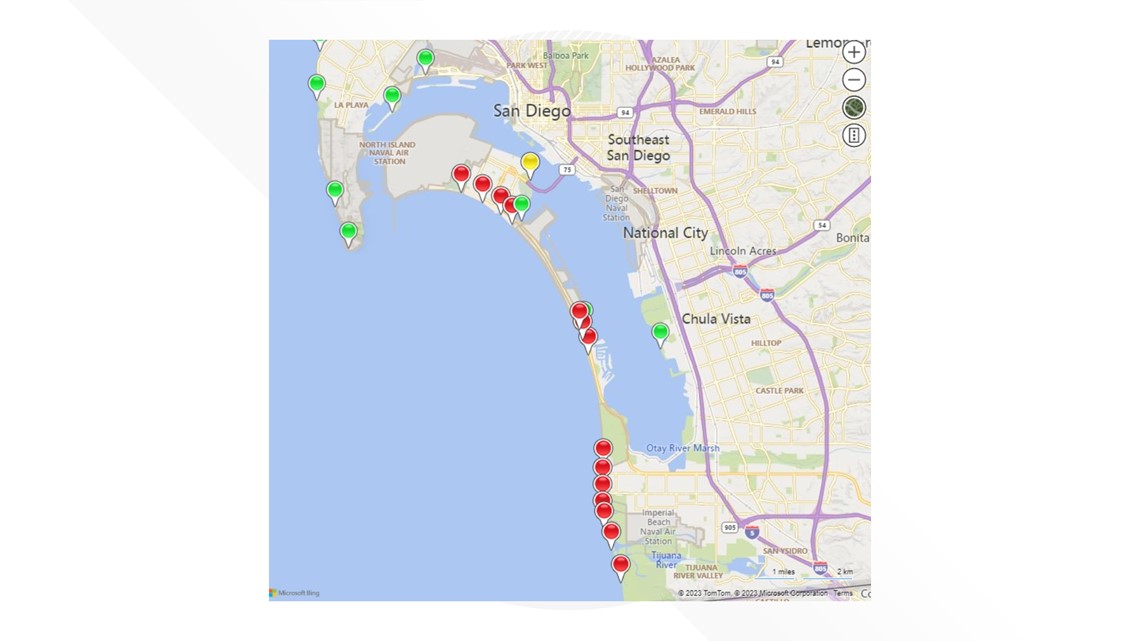 The County of San Diego, Department of Environmental Health and Quality (DEHQ), Beach and Bay Water Quality Program samples the recreational waterways throughout the county, south from the Tijuana border to Trestles Beach to the north.
Beaches are closed when there are sewage or chemical releases when the Tijuana River is flowing or when there are odors or water discoloration due to sewage.
The water is tested using a molecular method called digital droplet polymerase chain reaction, or ddPCR for short. ddPCR counts the enterococcus DNA present in the water sample.
The most common symptoms of recreational water illness are diarrhea, skin rashes, ear pain, cough or congestion, and eye pain.
Click here for the latest updates on advisories, warnings, and beach closures in San Diego County.
WATCH RELATED: Dramatic Imperial Beach rescue attempt that left two people dead caught on camera