SAN DIEGO — "How are you? [It's] good to see you," said 66-year old Frank Cavanagh.
It's not everyday that you see a man hug the heroes who saved his life.
"If they had not responded, I'd be gone," said Frank with tears in his eyes.
In September, Frank Cavanagh took a bike ride from Point Loma to Imperial Beach and collapsed.
"And then the next thing I know, I woke up in the ICU and if it hadn't been for these guys [...]" said Frank.
He doesn't remember any of it because he wasn't breathing and had no pulse.
Frank was surrounded by San Diego County Sheriff Deputies, Imperial Beach Firefighters and paramedics from AMR.
"A lot of us first responders go to these calls, and nine times out of ten it comes to a negative outcome, so you know it's an honor that we get to stand here next to a survivors," said Deputy Pele.
He, along with Deputies Bianca Dinero and Casey Calloway, never stopped continuous chest compressions started by two bystanders.
"It's very tiring, even just after a minute," said Deputy Dinero. "I remember hearing one of the paramedics behind me say [that] he is breathing again, so that was the best feeling then."
Deputy Calloway then added, "It's tiring and we want to give him the best [treatment], as I am getting tired, we want a fresh set of hands in there so he is getting the best care we can give him."
Imperial Beach Fire Captain Jason Bell and his crew also kept the eight minutes of compressions going.
"Our measures wouldn't have been possible without the deputies and the bystanders who were already on scene doing CPR," said Captain Bell.
CPR is short for "cardiopulmonary resuscitation."
Then, it was AMR's Paramedic Nicky Androski who got a pulse.
"We quickly loaded him up en route to the hospital and he started breathing on his own," said Androski.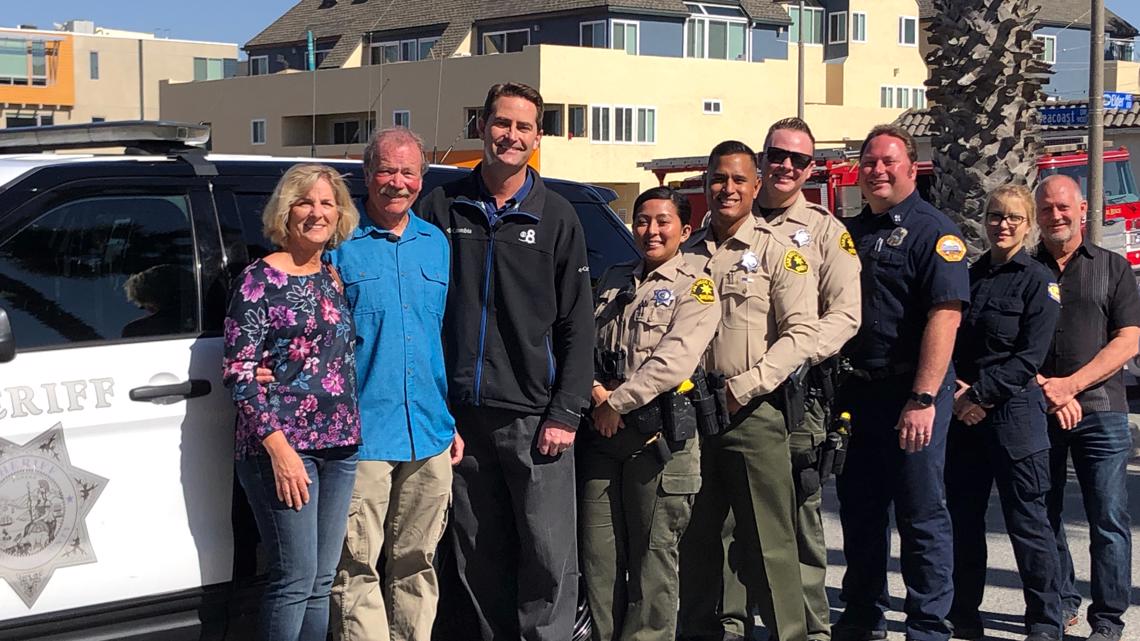 For AMR paramedic Robert Odom, it was the last shift of a long career.
"It feels great. This is the best part of the job. To see people talking after you run on these calls that is why we do what we do," said Odom.
When you add it all up, two bystanders, followed by nine first responders, means there were eleven sets of hands that saved Frank.
"Today we get to stand next to him again and see him again and it's a great honor doing this job and that is why we do it," said Deputy Pele.
He got a big hug from Frank's wife Crystal.
"It's good to see you again," said Crystal.
Crystal is glad the heart attack didn't happen three days later when her husband was expected to be at sea.
"I would have been out on a six-man outrigger halfway between Catalina and California," said Frank.
Instead, it was Imperial Beach where first responders refused to see Frank breathe his last breath.
"I told them 'thanks for saving my life,'" said Frank. "It feels great. I mean, these guys saved my life."
Doctors say Frank Cavanagh had an artery that was 100% blocked. Frank is feeling great now and exercising six days a week.
So yes, you can quite literally save a life just by knowing CPR. Here are some pointers:
It's a workout, but here are the four steps:
There's even a CPR playlist to help you remember the beat and make the sure the patient is "Stayin' Alive."
You can get CPR certified right here in San Diego County through the American Red Cross.Some local colleges, such as SDSU and UCSD, also offer CPR certification courses.