OCEANSIDE, Calif. — When you pick out something to wear in the morning, you can choose an outfit that blends in or one that stands out in a crowd.
In this Zevely Zone, I went to Oceanside for a kaleidoscope of color.
Early on in my television career I was told wearing solid, dark colors was the best way to dress, but the Zevely Zone always welcomes a rule breaker. "I just love the bright colors," said Stacey Smith-Bacon. When Stacey was in her early sixties she felt as if she 'dyed' and went to heaven.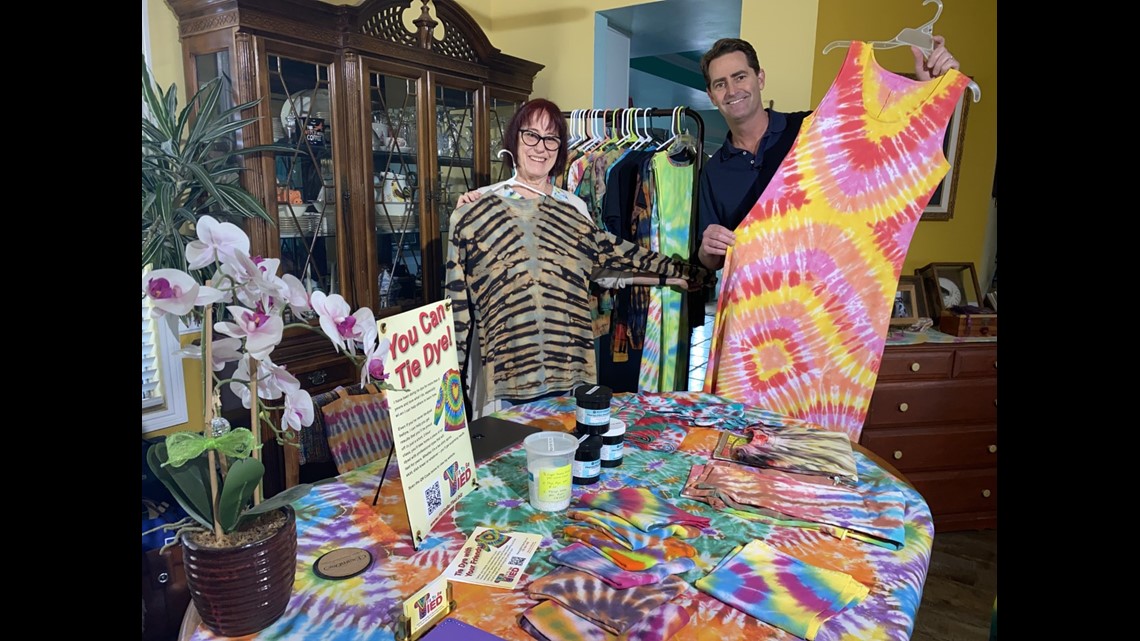 "First I wanted to learn the basics," said Stacey who loves the art of tie dye. "I am kind of a late blooming hippie I guess that's what I would call it."
She started off mastering traditional tie dye; that's when take a white shirt and dye it a rainbow of colors.
"It's become an addiction," said Stacey who branched out to bleaching black shirts. "It's called reverse dye," said Stacey.
The coolest style by far? "This is ice dye," said Stacey. For this style, she ties up a shirt with rubber bands and actually puts ice over the shirt until the ice dissolves with dye. "It's not the bright, obnoxious colors that you normally see with tie die its more subtle colors, "said Stacey. "This has become my favorite."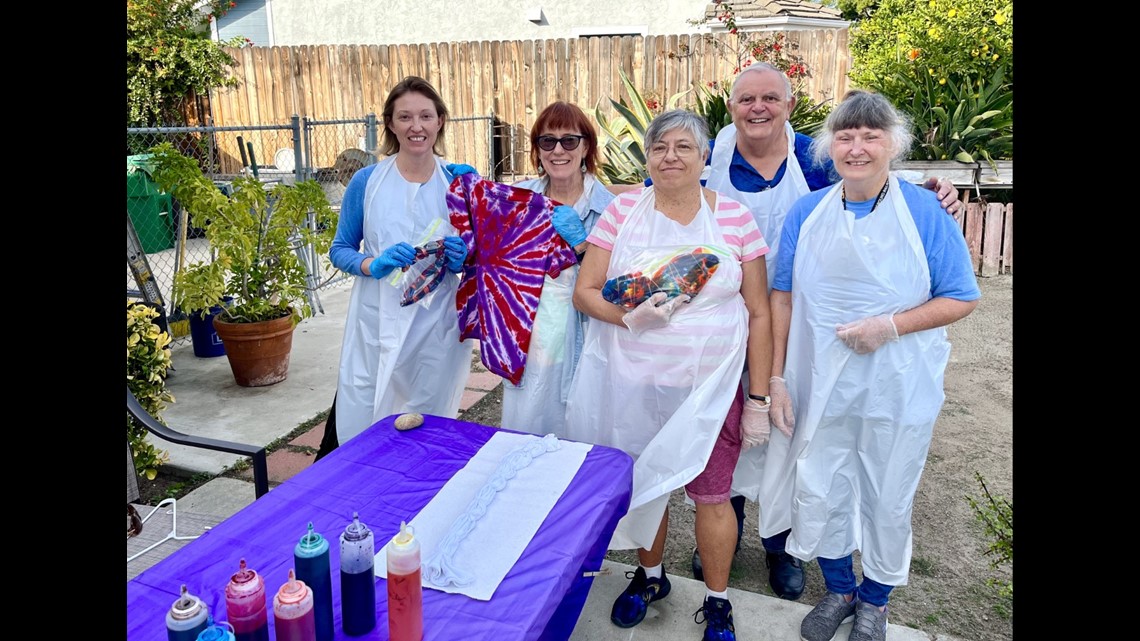 As for patterns, there's the bullseye, the chevron, and the swirl. "We call this the geode," said Stacey. And it's not just shirts she loves to tie-dye. Stacey showed me tie-dye skirts, dish towels, leggings, bags, aprons, and socks. "This is my happiness, I am a recovering graphic designer," said Stacey who found a new colorful career teaching tie-dye to anyone willing to learn. "I am the party; I bring the party. and if you want to serve wine of want to serve tequila. Bring your girlfriends and we'll have a good time," said Stacey.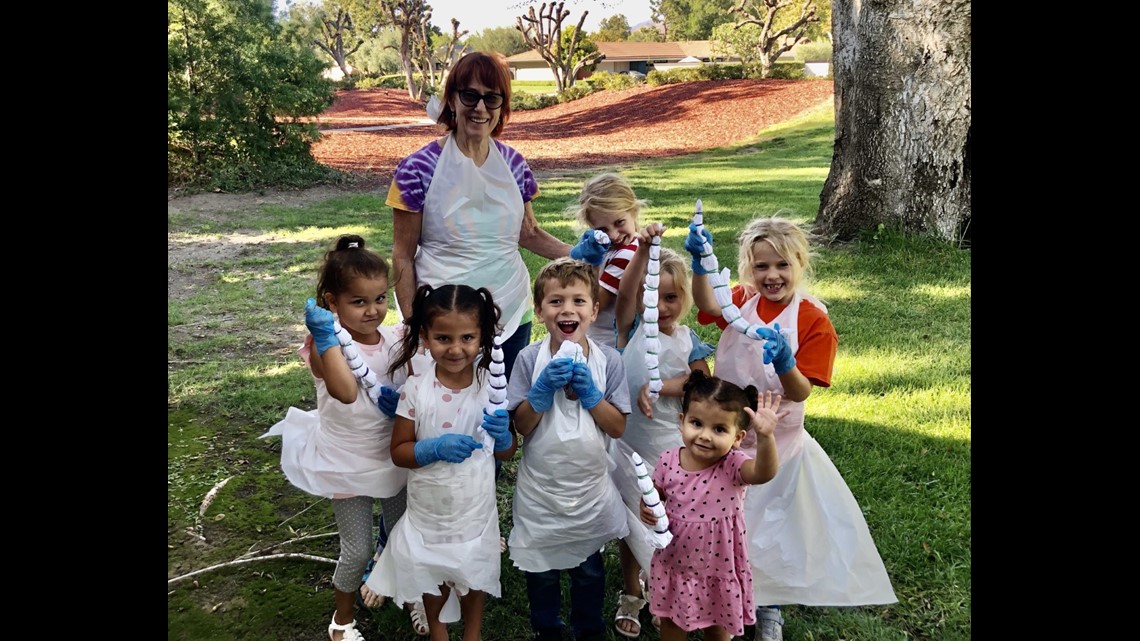 Her company called 'Fit To Be Tied' even has business cards that list the benefits of tie dye. You can easily get into a Grateful Dead concert. "That's true," said Stacey. "You'll never wear boring clothes again. "Nope," laughed Stacey. Time to say so long to solids and hello to Oceanside's newest hippie. "I love wearing the peace sign because don't we need a lot more of that these days?" said Stacey. "I am 71, but I am a young 71, ha, ha."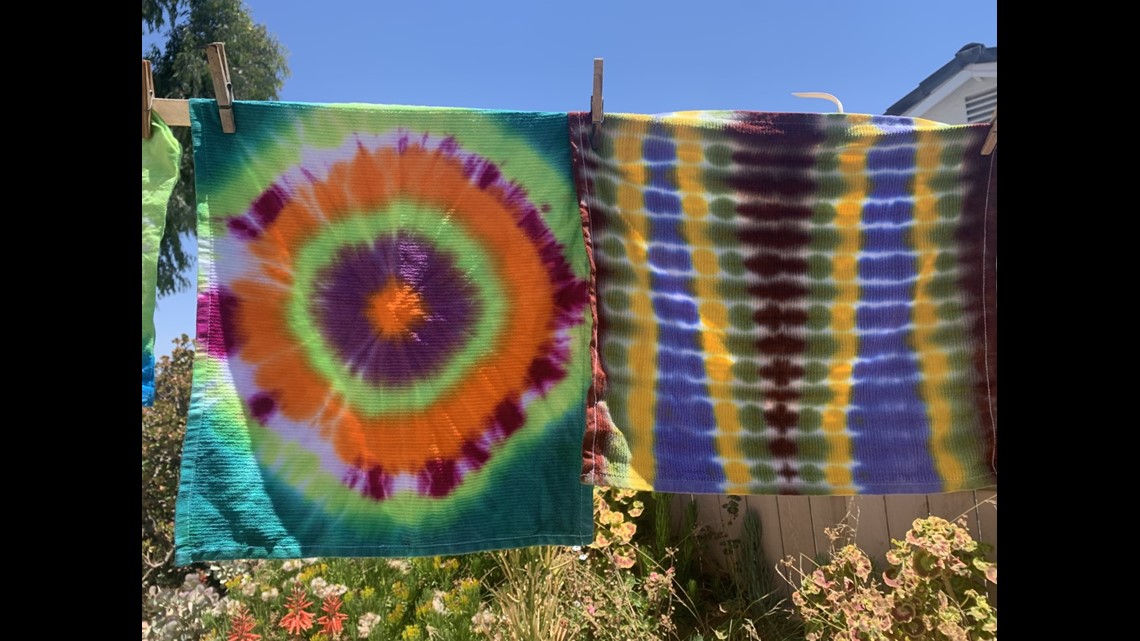 Stacey's tie-dye parties and classes cost thirty-five dollars per person. If you'd like more information, click here.