SAN DIEGO — Tuesday afternoon high temperatures will be above seasonal norms.
Coastal highs 72°-78°, normal around 69°.
Inland highs 79°-91°, normal around 78°.
Mountain highs 84°-92°, normal around 71°.
Desert highs 104°-109°, normal around 96°.
At the beaches, water temperature is 63°-69° with a moderate rip current risk. Wave heights are 2'-4' from a building south-southwest swell and a small northwest swell. The UV index will peak at 11 (extreme).
Low clouds and some areas of fog will stick around the San Diego coastline for much of the morning. Skies will begin to clear late in the morning, with few clouds staying along the coastline for the better part of the day.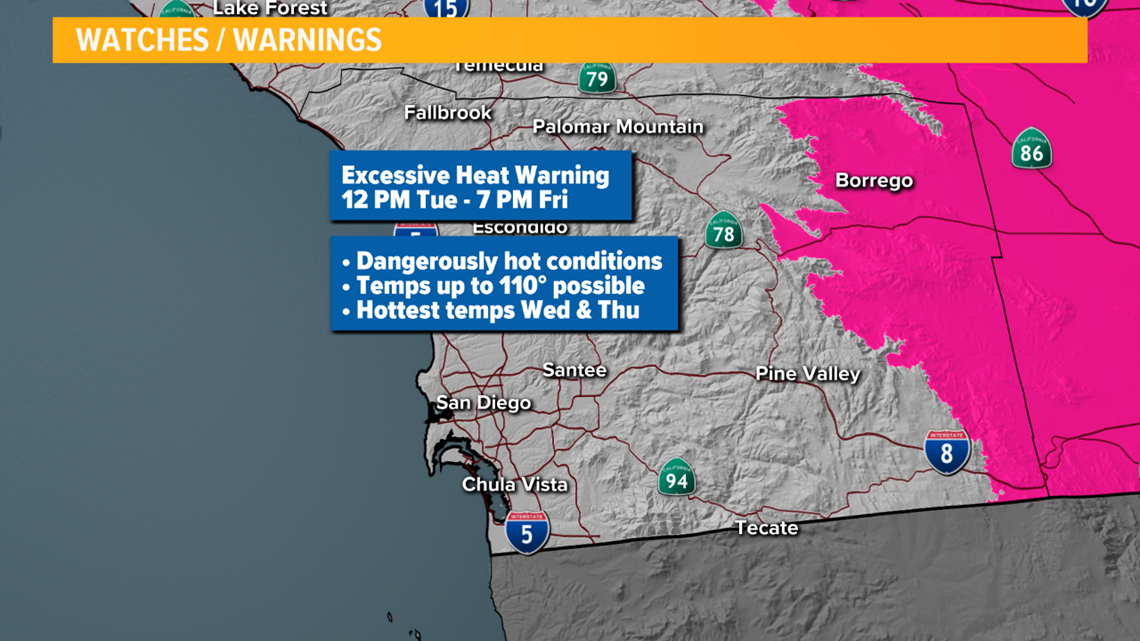 An Excessive Heat Warning has been issued for San Diego County deserts from 12 PM Tuesday until 7 PM Friday. Dangerous heat with temperatures up to 110° are possible in the hottest desert locations. Temperatures will gradually climb through the week. Hottest temperatures will occur Wednesday and Thursday for the desert.
Hot temperatures will increase the risk of heat related illnesses. Know the signs of heat illness and check on neighbors and elderly. Avoid direct sun exposure, use air conditioning when possible, and drink plenty of fluids.
High pressure will continue to warm up temperatures through Thursday. Wednesday will be the hottest day for much of the County, while deserts will see hottest temperatures on Thursday as well.

The marine layer will keep coastal conditions cooler and develop low morning clouds and some fog. This will occur each morning with weak onshore flow keep the marine layer in place.
Low pressure system from the southwest will weaken and push the high pressure eastward as it moves towards Central California. Temperatures will begin slowly lower Friday as the low approaches. Onshore flow will strengthen, spreading cooler temperatures inland and bringing gusty winds to the mountain and desert. The marine layer will also deepen, bringing clouds farther inland over the weekend. Cooler conditions continue into early next week.