SAN DIEGO — CBS 8 at ArtWalk @ Liberty Station invite the community to come out to the ArtWalk preview pARTy Aug 4 and the 18th annual Fine Arts Festival Aug 5-6, 2023.
Preview pARTy | Friday, Aug 4:
For the first time ever, ArtWalk Liberty Station is offering a preview pARTy sponsored by Ranch & Coast Magazine, where guests can get early access to meet the artists and view art pieces before the crowds! This all-ages sneak peek event will feature live music by Band Overboard, San Diego's designated yacht rock experience, with an opening performance by Joshua Taylor. The $25 ticket includes entry AND two drink vouchers attendees can use to redeem for alcoholic and non-alcoholic beverages. Tasty food options will also be available for purchase. Buy preview pARTy tickets at artwalksandiego.org.
Fine Art Festival | Saturday & Sunday, Aug 5-6:
The festival showcases the creativity of more than 175 artists from various states and Mexico, featuring a wide range of artistic mediums such as paintings, photography, glass and ceramic art, jewelry, and sculpture. It celebrates both local and international talent, highlighting the cultural diversity of the region. The Arts District at Liberty Station has become a prominent arts destination in San Diego, offering museums, dining options, and entertainment. The festival takes advantage of the district's beautiful outdoor setting, featuring a lush lawn, stunning water features, and ample free parking. The 18th Annual Fine Art Festival is organized by ArtWalk San Diego, an organization dedicated to promoting the arts in the city. The event encourages attendees to immerse themselves in the art world and supports the appreciation and acquisition of original artwork.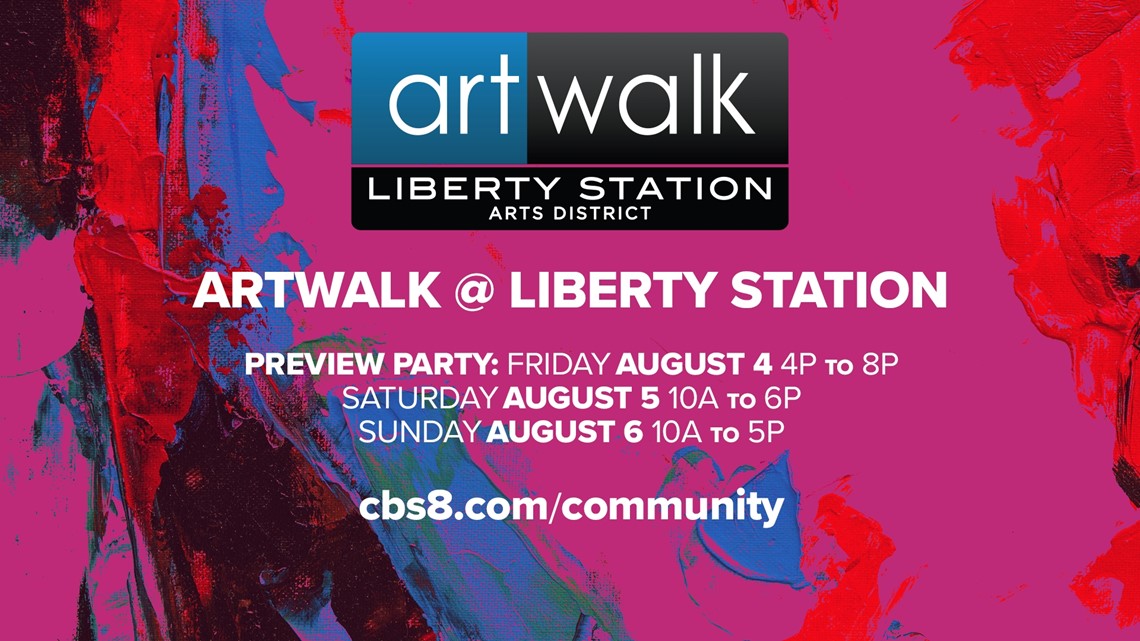 WATCH RELATED: Previewing the 2022 17th Annual ArtWalk at Liberty Station :
2022 Artwalk recap:
CBS 8 at ArtWalk @ Liberty Station connected with our audience and those attending the ArtWalk Saturday, Aug 6, and Sunday, Aug 7 in 2022.
The 17th Annual Fine Arts festival was free to attend and showcased the works of over 150 artists across the states and Mexico. Festival goers were treated to live music, great food and art activities to keep the kids entertained.
As we continue to work for our Community, CBS 8 also partnered with ArtWalk for the 3rd annual ArtWalk Carlsbad on September 24 and 25 off of Palomar Airport Road. Our pop-up "newsroom" was at at the festival listening to your story ideas and handing out great prizes. For more info, please go to https://artwalksandiego.org/carlsbad/