SAN DIEGO — The NCAA's March Madness basketball tournament isn't the only competition hitting the court.
For the fourth year, the San Diego Humane Society is partnering with CBS 8 and hosting its "fur-ociously" cute March Meowness championship.
"The March Meowness contest follows the March Madness brackets. We go from 32, 16, 8 to final 4 and then the championship and the winner will be announced April 4th," said Thompson.
All participants have to do is enter in the best photo of their pet on the San Diego Humane Society's website, deadline is March 12.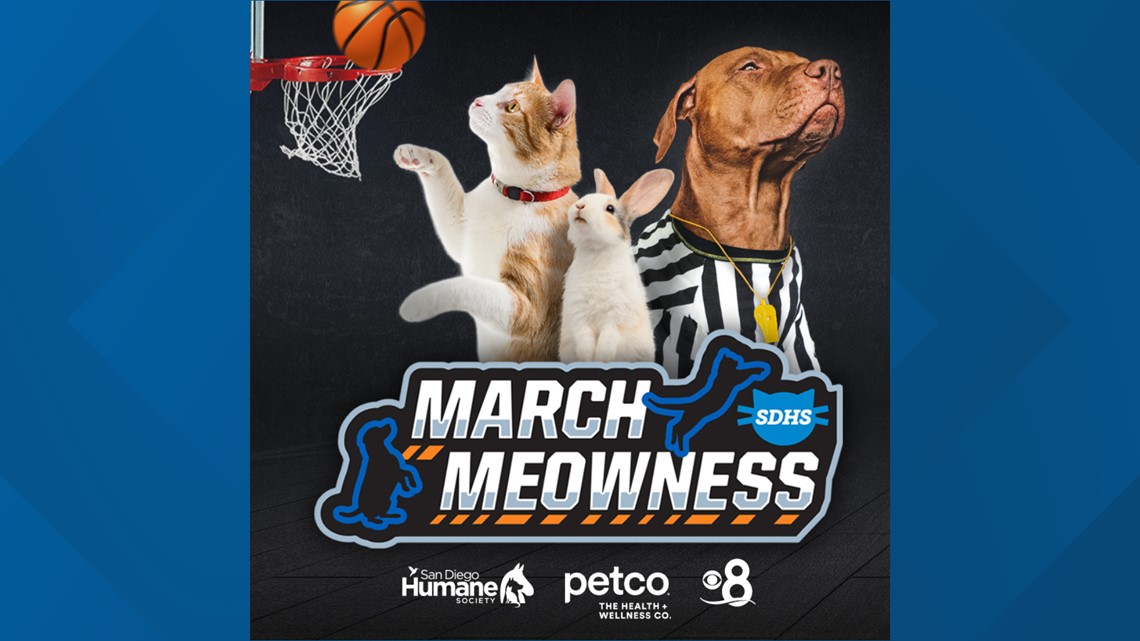 The top 32 photos, based on votes received by midnight March 12th, plus 32 wildcard entries selected by the San Diego Humane Society's staff will advance to the first round bracket with 64 pets. From there, free voting is open to the public.
"We are looking for the absolute cutest pet photo. It can be any pet or any animal. We've had horses, pigs, guinea pigs, you name it! Enter your favorite pet photo into the contest and have your friends and family vote. Hopefully, your pet is the winner! Anyone can vote. It's one vote per person per day," said Thompson.
First through eighth place winners will receive a Petco gift card ranging from $50 to $250 dollars.
Expect champion level cuteness! The furry and friendly competition is on. Does your pet have what it takes to be the 2023 March Meowness champ?
If you don't have a pet, the San Diego Humane Society has 550 pets up for adoption. Click here to adopt.
WATCH RELATED: San Diego Humane Society overcapacity after influx of strays over New Year holiday (Jan. 2023).