SAN DIEGO — A group of protesters marched Monday starting near City College in downtown San Diego then made their way through Balboa Park. The group was made up mostly of students decrying police violence against black Americans.
Protesters began marching early Monday afternoon through the park and reached the San Diego Zoo by 2 p.m., chanting "No Justice, no peace. No racist police," as well as the name of George Floyd, who died Memorial Day in Minneapolis after being taken into police custody.
Balboa Park protesters chanted to police "march with us" while passing a group of officers along El Prado as they made their way toward the Cabrillo Bridge. The group then made their way to the area of El Prado and Sixth Street and stopped under some trees where speeches were being made as of 3:30 p.m.
Around that time, a plane flew over the group with a banner that read "We love the police. USA thanks you."
San Diego police officers blocked intersections as the protesters made their way through the area. SDPD motorcycle officers were observing the group on the west side of the park as of Monday afternoon.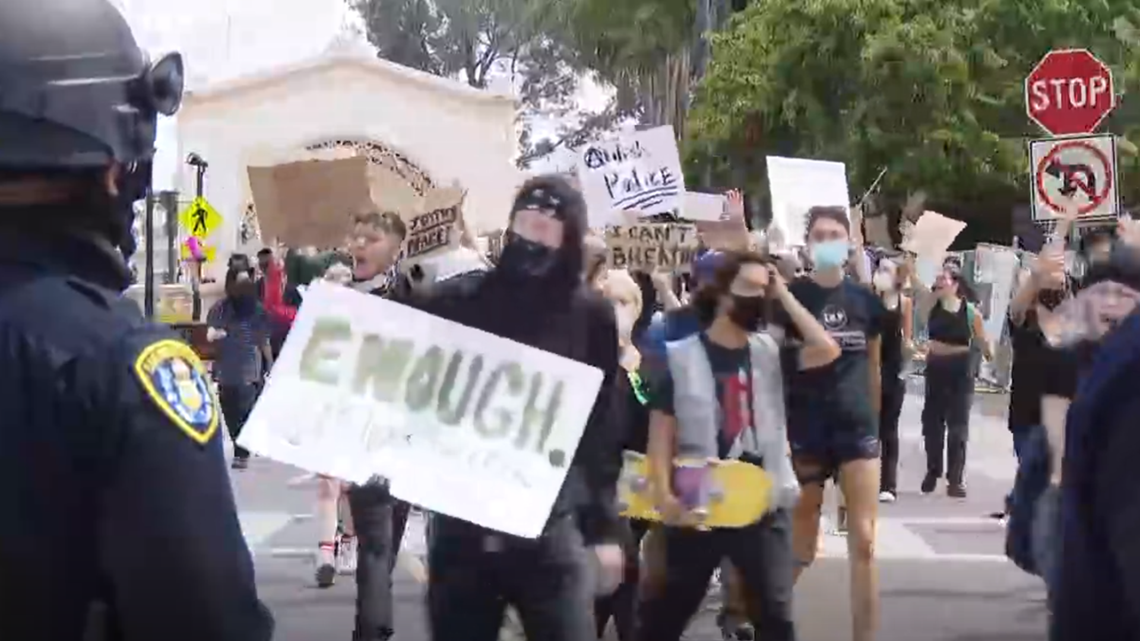 Protest leaders could be heard urging marchers not to commit vandalism, and only use temporary means like chalk to leave messages, which many of the demonstrators employed to write messages like "Black Lives Matter" on city sidewalks.
As the demonstration was getting underway, the California Highway Patrol closed some downtown freeway on- and off-ramps as a precaution. The closures included westbound state Route 94 to F Street, the First Avenue entrance to southbound I-5, and the southbound I-5 exits to 10th Avenue and Front Street, the CHP reported.
The southbound 163 exit to Balboa Park was also closed at one point to protect the marchers.
Naval Medical Center San Diego said on Facebook it had closed its Wieber Avenue as the protest came into the vicinity of Balboa Park.
Social media posts asked Balboa Park marchers to "stand for" and listed several names of black victims of violence including George Floyd, Trayvon Martin, Tamir Rice, Ahmaud Aubrey and many more.
The social media posts about the protest also asked that participants only attend if they were in good health and said to plan on taking proper social distancing measures while standing with protesters from around the country.
News 8 has received reports that Downtown San Diego businesses were closing early Monday after issues in the area Sunday following a morning of peaceful protests.
As demonstrators marched and chanted in downtown San Diego late Sunday evening to decry the in-custody Memorial Day death of 46-year-old George Floyd in Minneapolis, large numbers of people moved through the streets, smashing windows and breaking into stores.
Several businesses, including a CVS pharmacy at Broadway and Fourth Avenue and a nearby 7-Eleven, were broken into and vandalized, police said.

Officers responded en masse, cornering a group of looters near Fifth Avenue and C Street. Police used tear gas and concussion grenades to control protesters and issued an unlawful assembly order along Broadway.

Early Sunday afternoon, police reported that 100 to 200 protesters were throwing rocks, bottles and other objects at officers in the 300 block of Broadway. No injuries were reported.

More than 100 people were arrested and booked on various charges, including failure to disperse, burglary, assaulting officers and vandalism, police announced this morning.