POWAY, Calif. — Leave it to a bunch of smart eighth graders to design the perfect city of the future and solve climate change. In this Innovate 8, I visited St. Michael's School in Poway to behold 'Lotus City'.
I am no expert but any city with a beautiful Hawaiian beach and a Costco sounds pretty good to me. When designing perfection, one should first assemble a team of 8th grade STEM All-stars. I met the team at St. Michael's School. "Hi, I'm Addie, I'm Sophia, I'm Kami. I'm Ava, I'm Aurelia, I'm Penelope," they said with big smiles.
Tasked with solving Climate Change, the dream team began with the basics; public transportation and energy created by the ocean.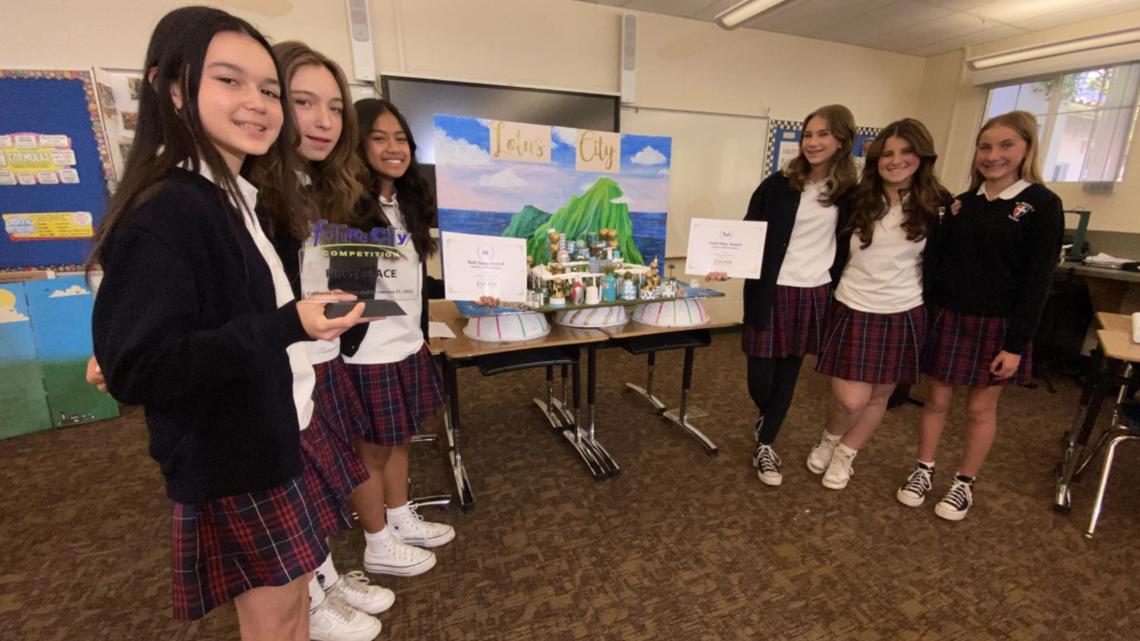 So, what makes their futuristic Lotus City stand out above the rest? Carbon Intake buildings. The team consisting of Ava Paraiso, Sophia Nasrawi, Addie Dawson, Kami Kleyensteuber, Penelope Hertzog and Aurelia Dunne explained. "They are painted with titanium monoxide which is a chemical that attracts carbon in the atmosphere.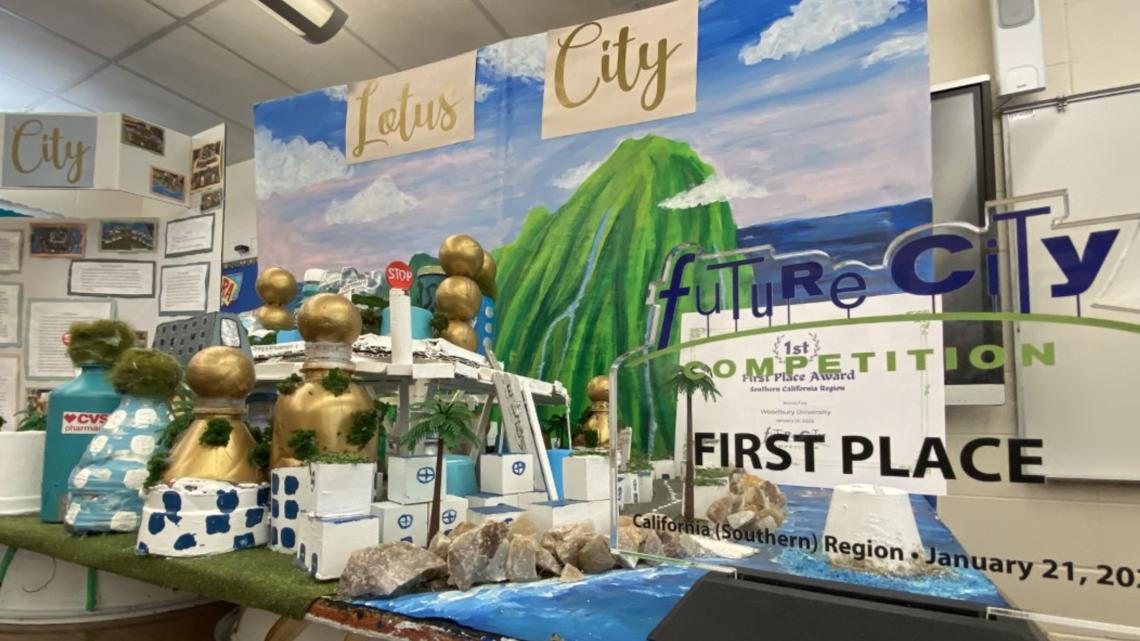 Once the carbon goes through the building it's turned into calcium carbonate which is then turned into bricks and concrete," said the Lotus City team.
Not only will Lotus City take on climate change, but with all of those bricks they can build more cities. "In the future when our population rises, we can expand our city and build more buildings," said the team.
Along with solving the housing crisis, the students want to float another idea by you. "There's three buoyant titanium tanks located underneath the city, and they lift it above the sea level. It's a floating city located off the coast of Hawaii and it's a manmade island," said team members.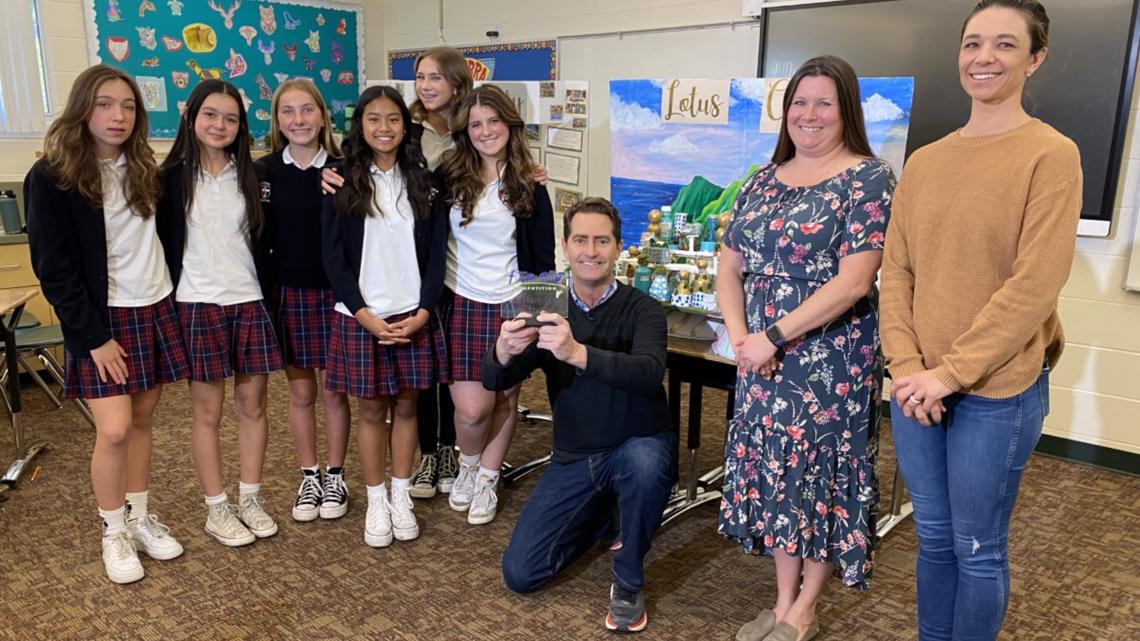 The team took 'Lotus City' to the Future City competition in Burbank and beat out 19 other schools.
How did it feel to win? "Really good. Amazing," said the girls in unison. "We were not surprised because we prepared really hard for it," said St. Michael's teacher Lara Ray. In other words, with these young STEM experts, the future looks bright. "I am excited that it's an all-female team in STEM, I think that is really something to be proud of," said St. Michael's teacher Krystle Moss.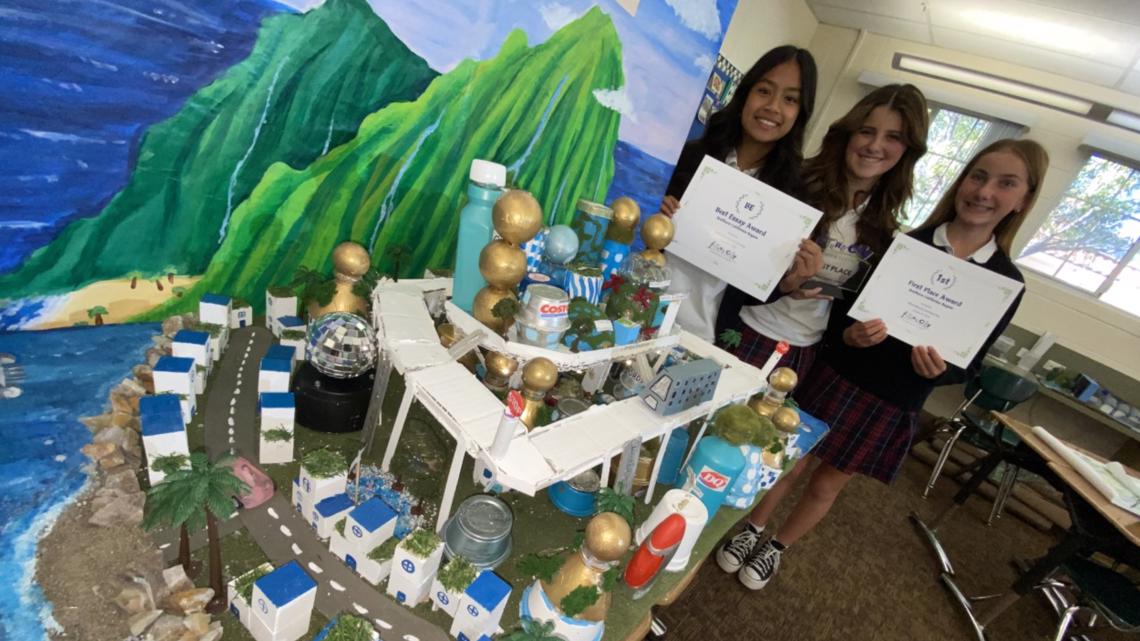 The students also included a worship center where everyone in the entire city can come together under one roof from all faiths. "We are not done, now we get to go to Washington DC and compete in another competition," said Krystle.
In Washington DC, they'll face teams from around the world. "We are definitely going there to win something," said the team. Especially if the judges like to shop. They've thought of everything including a Costco. If you're looking for perfection, you might as well surround it with good shopping and paradise. Not only do they plan on saving the planet, but they included an epic Hawaiian beach to hang out on called "The Cove." "No city can compete with our beach," said the Lotus City team.
The St. Michael's School STEM team will travel to Washington DC to compete in the Future City International competition from February 17-22.
Watch more Zevely Zone content below: