SAN DIEGO — Instead of leaving your dog at home all day while you go to work, you might consider sending your pet on a pink party bus.
In this Zevely Zone, I rode along with Precious Petcare San Diego. If you are a pet owner with a busy work week, this is a door-to-door doggy service for you.
"We call it the Magic Pink bus," said Johnny Madrid who never gets tired of the looks he receives while he rumbles down the road in the pink converted school bus. "People seem to be a little flabbergasted at first they are kind of in shock, like 'what a pink bus?'" said Johnny.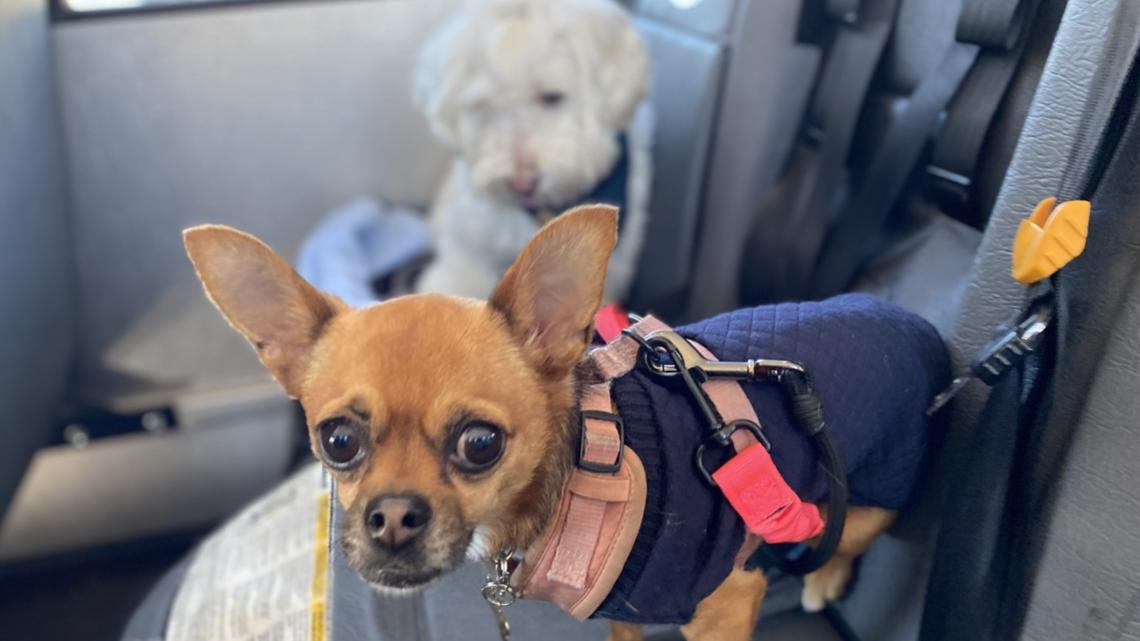 "This is Moose, [and] that is Fire," said business owner Leila Offner pointing out some of the passengers. Precious Petcare San Diego started off as a side hustle for Leila. "I've always had a love for dogs," said Leila. The former restaurant manager discovered dogs are friendlier than people. "First of all, they don't complain, they are always happy to see you," said Leila, who told us the feeling is mutual.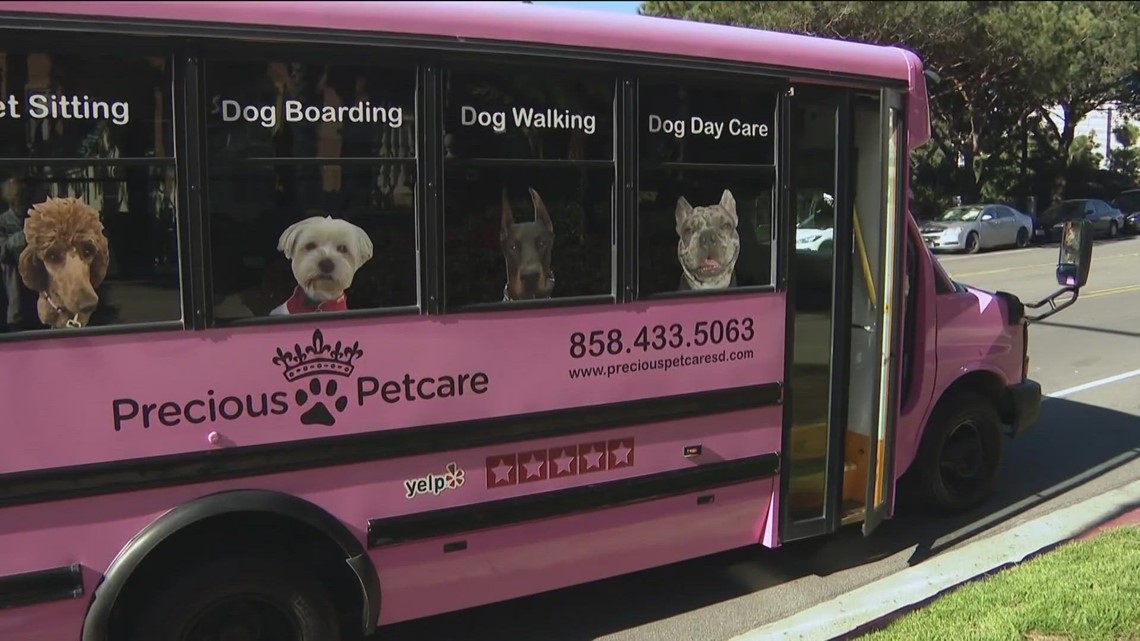 "Hello Archie, hello Joey," said Leila as they picked up dogs in downtown San Diego. Johhny and Leila told me the dog named Joey is their favorite. "Ha, don't tell Joey that we have to keep the head intact," said Joey's owner Kate. While she works, Kate she loves to know her dog will play. "I am a huge fan of Precious Petcare. They might think that Joey is their favorite, they are my favorite," said Kate.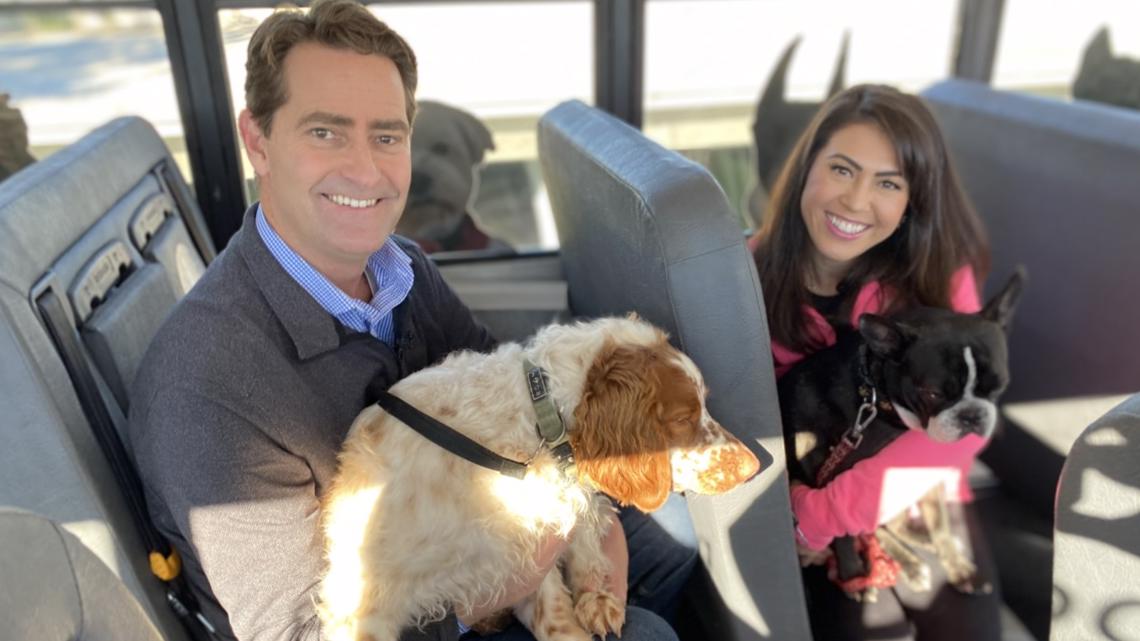 The next stop is La Jolla, then off to Mira Mesa. "So, we got Moses next?" asked Johhny. "Yep, Moses and Harry," said Leila. "Hi guys, hello," they said as they picked up more dogs.
Pet owner Mary Joe tried not to get her feelings hurt. "Well, the minute they saw them they are like oh there is Leila and Johnny and the guys and girls. It's like their pals they know exactly what they are going to do," said Mary Joe. "It's our job to rescue them. You know we can't have them be too lonely for too long," said Johhny. "All aboard."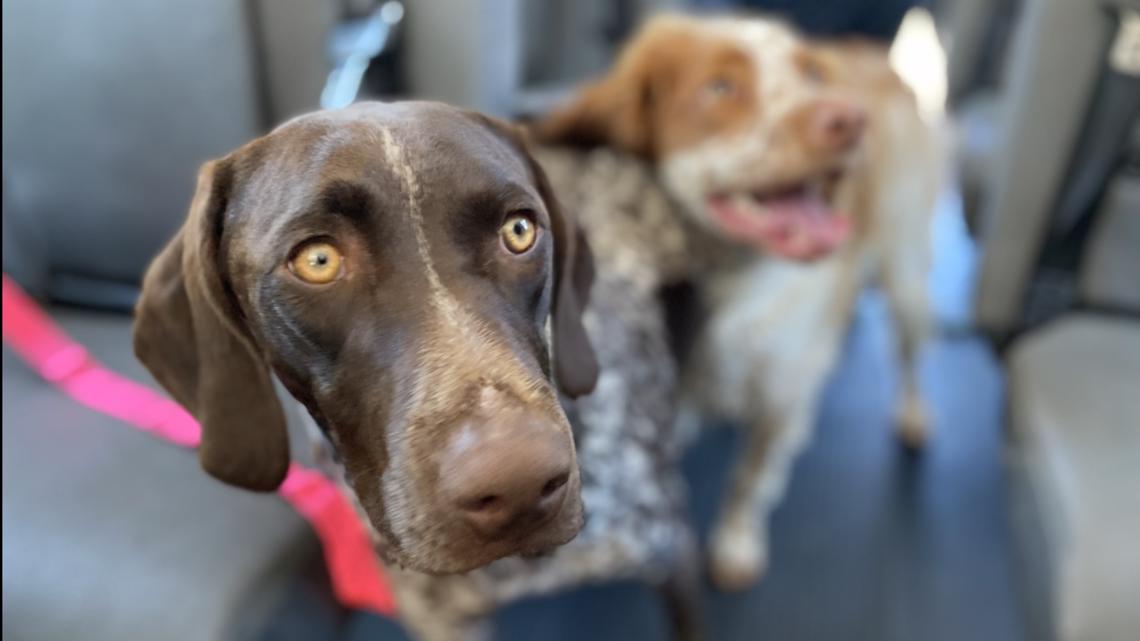 I asked if this was a job or just fun. "I think it's mostly fun," said Johnny. There is only one rule on the pink bus and that's every dog wears a puppy belt.
"Hi Ruby," said Leia at their next pick-up. Ruby's owner Joey told us, "This is her favorite part of the week whenever she sees the bus she is just squealing with joy."
"It has changed our lives, I am not even being dramatic. They are amazing to know that joey is playing all day, totally taken care of totally loved allows me to do my work the best that I can," said Kate.
The passenger record on the Magic Pink Bus is 14. But on this day, we had 11 dogs and Leila and Johnny's baby. "Luna loves it as you can tell, she is just hanging out she just loves the dogs," said Leila. Throw in a television reporter and that made 13 passengers who were having so much fun, we almost forgot the ride ends in pet paradise. After the bus ride, the pet care begins in a backyard filled with open space and toys.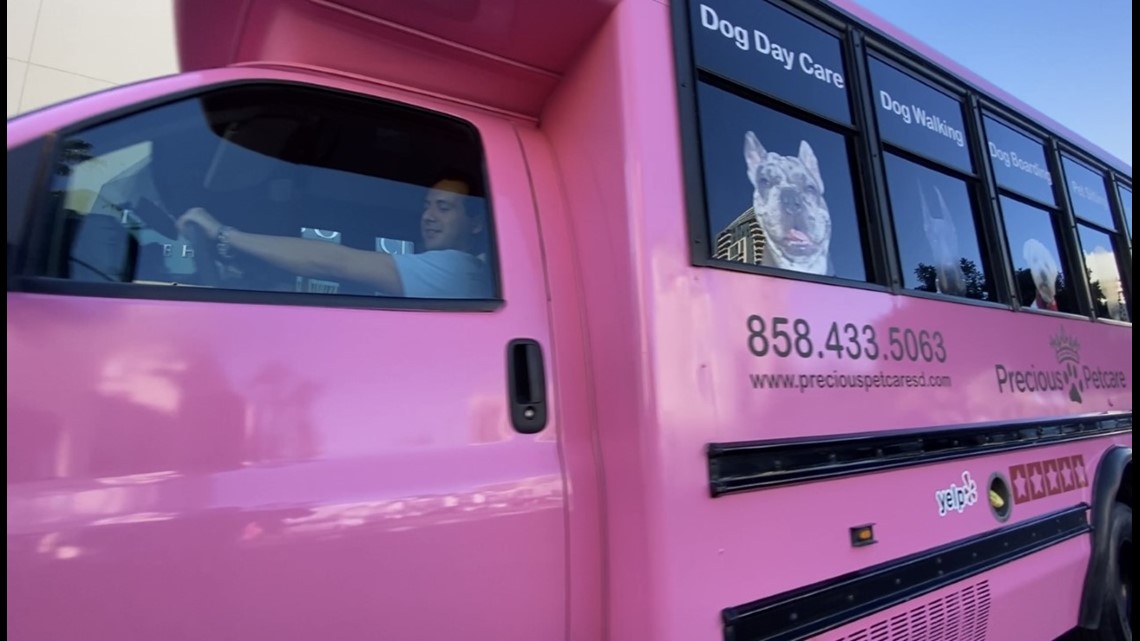 "Quite frankly we find it to be very fulfilling because we are dealing with very loving animals who just to be pampered [and] just want attention, I mean who doesn't want that?" said Johnny.
Half day pet care for your dog costs forty-nine dollars. Full days are sixty-nine with a ten-dollar discount if you book more than one day a week. Find out more information about Precious Petcare which also offers boarding, cat visits and dog walking on their website, here.
WATCH RELATED: All-star volunteer dog walker is a animal shelter's best friend: