SAN DIEGO COUNTY, Calif. — U.S. unemployment is swelling to levels last seen during the Great Depression, with 1 in 6 American workers thrown out of work by the coronavirus.
Those hardest hit by the economic fallout from the coronavirus pandemic have been food, arts, and retail workers.
According to a Zillow analysis, Latinx, Asian and black households are feeling the impact of layoffs the most because they are disproportionately represented in these jobs compared to white workers.
Nationwide, 8.3% of white workers are employed in the food, arts, and retail industries compared with 12.7% of Latinx workers, 10.2% of Asian workers and 10.1% of black workers.
In San Diego, 9% of Asians, 15% of Hispanics, and 10% of white workers are in the food, arts, and retail industries.
According to Zillow, non-white households face a greater rent burden and after they do pay rent, they tend to have less left over for other expenses. Non-white households are also less likely to be able to save for an economic hardship.
White households in the industries listed above spend 25.1% of their income on rent, black households spend 28.3% on rent, Latinx households are right at 30% and Asian households are just over at 30.6%.
"This analysis highlights the financial tightrope many households walk in our vital service industries," said Skylar Olsen, senior principal economist at Zillow.
Typical renter households that receive the majority of their income from these industries are below or near the accepted 30% guideline for the amount of income spent on rent for each race included in Zillow's analysis.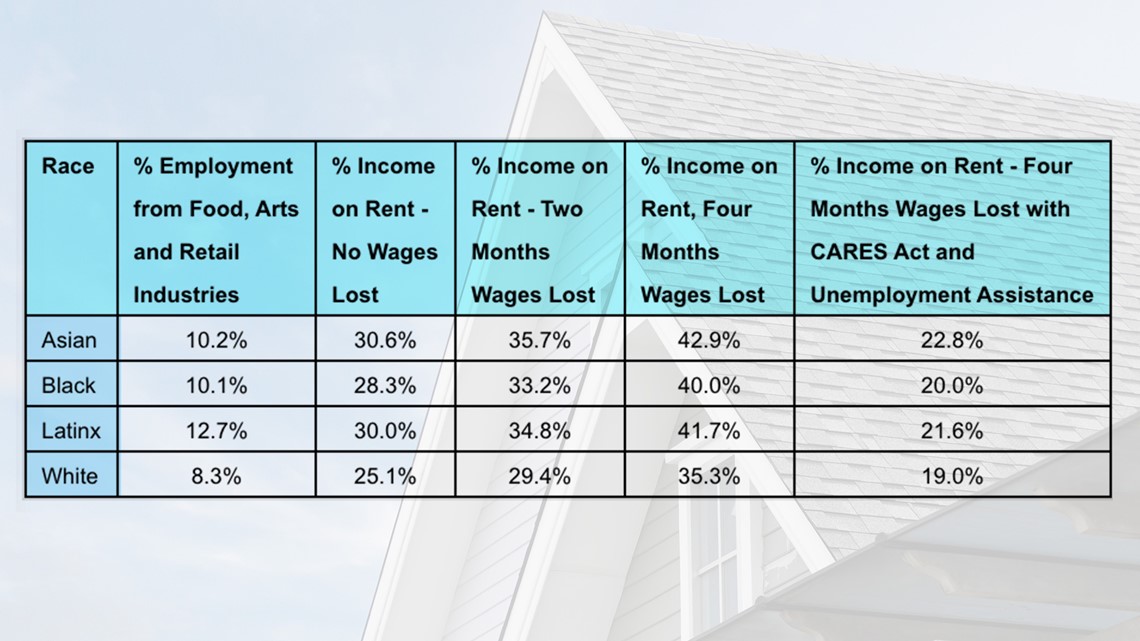 If workers in the industries listed above went without income for two months, only white households would stay within the affordability guideline at 29.4% -- black households would jump to 33.2% of income spent on rent, Latinx households to 34.8% and Asian households to 35.7%.
According to Zillow's analysis, in a more severe scenario where workers would go four months without pay, that would rise to 35.3% for white households and at least 40% for non-white households.
Financial assistance from the CARES Act -- which provides unemployment insurance at standard levels for up to 39 weeks, with an additional $600 a week through July 31 -- and state-level unemployment insurance appear likely to play a crucial role during this crisis.
According Zillow's analysis, white households that go four months without work but receive direct payments from the CARES Act and state and federal unemployment assistance would see their rent burden reduced to 19%, and Asian households would have the highest rent burden at 22.8%, well below what it would have been without any lost wages.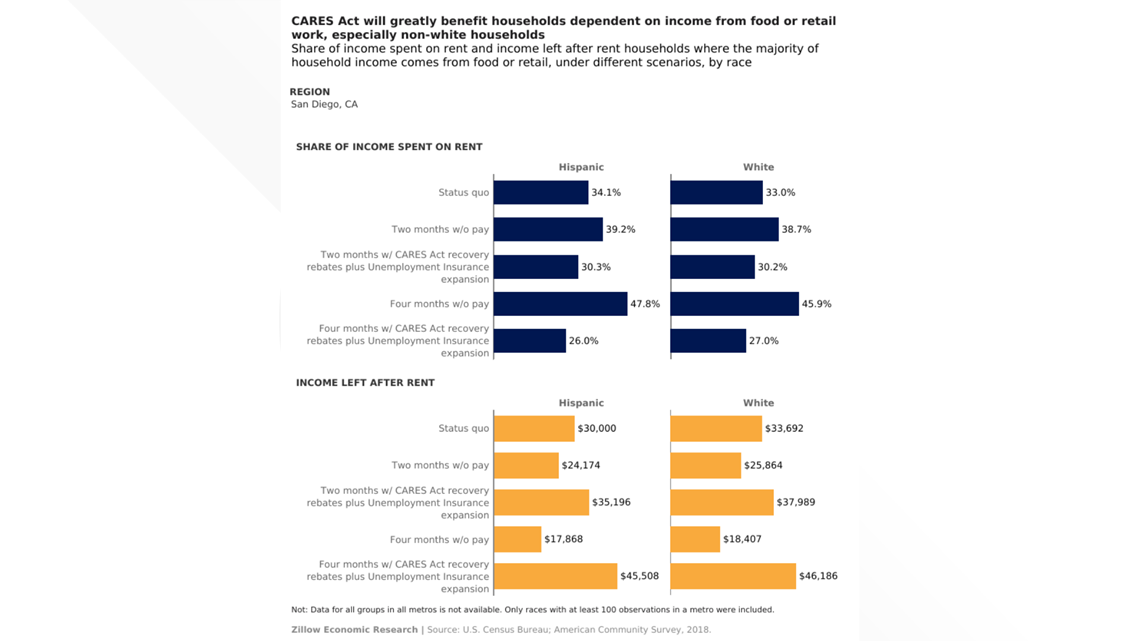 The government says more than 4.4 million laid-off workers applied for unemployment benefits two weeks ago. With jobless lines growing, the House passed a nearly $500 billion infusion of coronavirus spending to aid ailing businesses and hospitals.
In all, about 26 million people have now filed for unemployment aid in the past five weeks. That's more than live in the 10 biggest U.S. cities combined.
President Donald Trump said the bill will help small businesses keep millions of workers on the payroll.