SAN DIEGO — A man who was arrested on Thursday afternoon for allegedly kidnapping a woman at gunpoint, sexually assaulting her and holding her captive is due in court on Friday. Investigators also found the body of a dead woman in the house.
San Diego Police Department dispatchers received reports from a 43-year-old woman on March 15 around 12:05 p.m. who told authorities she had been kidnapped by a man with a gun at Palm Avenue and Saturn Boulevard.
Officers with the San Diego Police Department Southern Division responded to the scene and found the woman, who further stated "...for approximately the last 24 hours, she had been held captive by a male suspect at a nearby residence," a press release from Lieutenant Jud Campbell of San Diego police stated.
The woman, whose identification wasn't immediately made available to media, told officers she had known the male suspect for about a week before the incident.
"The woman stated that the male had threatened her with a gun, sexually assaulted her, and there was a dead body inside the residence," Lt. Campbell said.
The woman escaped her captivity and flagged down a passing motorist who called 9-1-1.
"I don't know who she is but god bless her. that was pretty brave of her," said Alfonso Castro, who lives in the area.
San Diego police officers responded to an address in the 2200 block of Citrus Avenue, where the victim told authorities she was being held captive.
"It's super scary because we're single mothers. it could have been anybody in there," said Elda Alvarez, who lives in the neighborhood.
Officers contacted 44-year-old Rafael Banda, who lived at the residence, entered his home, and found an adult woman deceased due to unknown reasons, Lt. Campbell said.
"The Homicide Unit responded to investigate the suspicious death with assistance from the Sex Crimes Unit," Lt Campbell said in a press release.
Banda was arrested and booked into County Jail for sexual assault under duress and kidnapping. He was being held on $130,000 bail.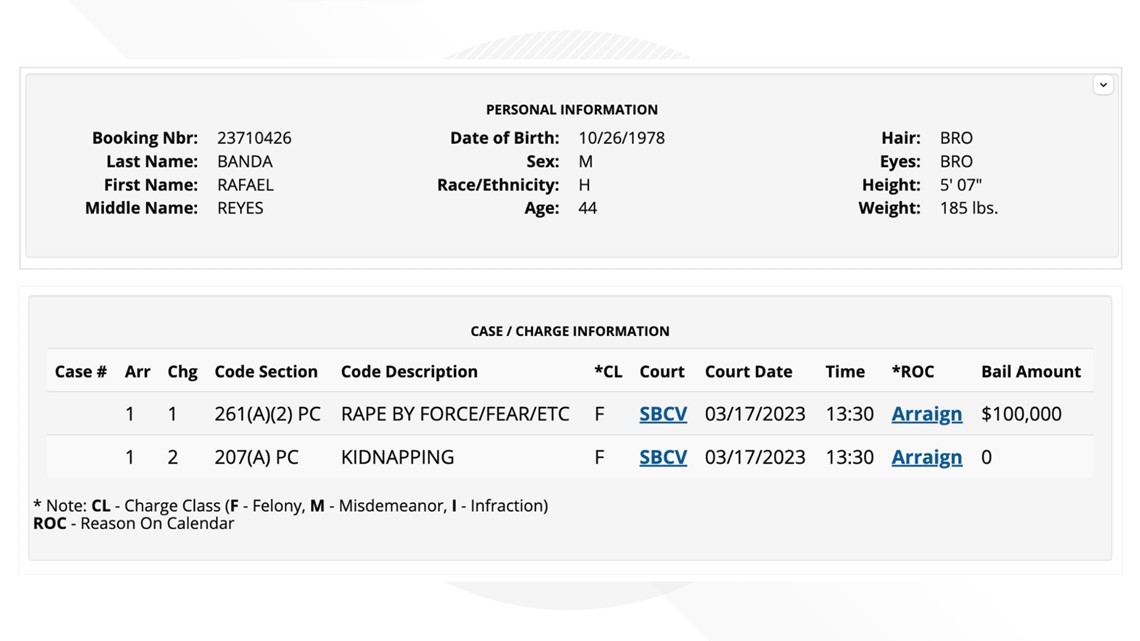 Authorities said this is an ongoing investigation, and no other suspects are believed to be involved.
Anyone with information regarding this incident was asked to call the San Diego Police Homicide Unit at (619) 531-2293 or Crime Stoppers at (888) 580-8477.
WATCH: Kidnapped woman escapes captivity in South Bay home; police find dead woman inside