SAN DIEGO — Juicy, cheesy, meaty, and most recently proclaimed - healthy! In-N-Out Burger landed itself a top-ranked spot in a study that searched America for the healthiest fast-food burger.
A study conducted by Gambling, a web-based team that expertly reviews and compares gambling services to identify the best-regulated operators and products available online, apparently also reviews fast-food joints for the healthiest burgers.
In-N-Out burger came in with the number two spot out of 10 restaurants that were reviewed, including Wendy's, Whataburger, Checker's, Rally's, and more.
If the cheeseburger staple of California came in second, who was first? Well, first place was handed over to Whataburger with a rating of 8.4 on a 10-point scale, according to Gambling.com.
To decide, cheeseburger analysts (if you're hiring for a position similar to cheeseburger analysts, let CBS 8 know) looked at sugar, fat, salt, and calorie content.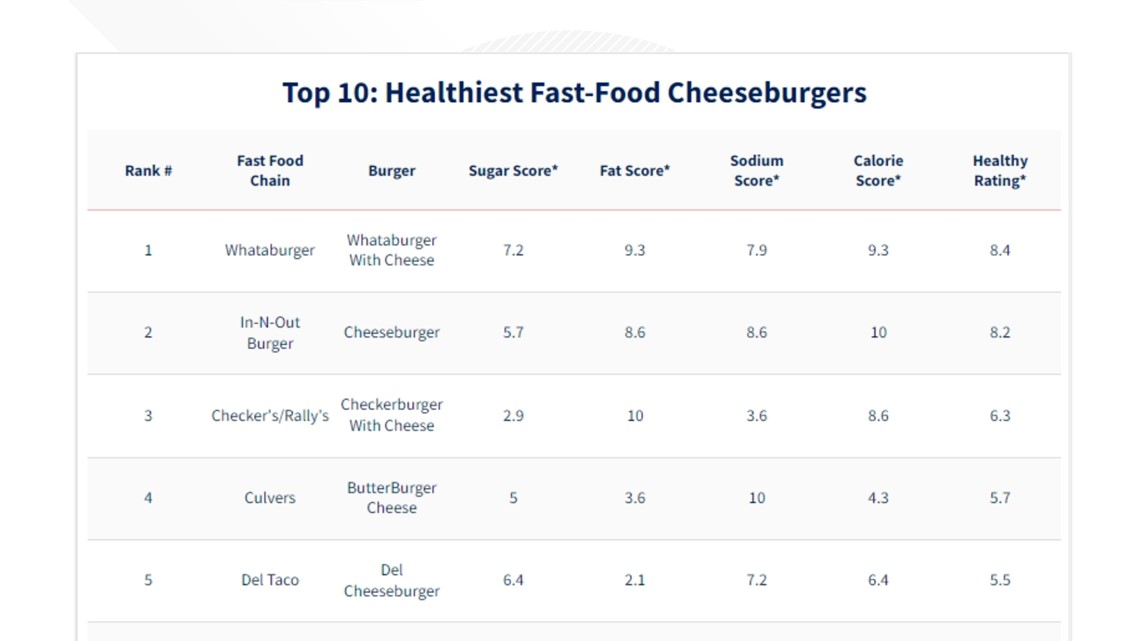 Considering all health factors, In-N-Out Burger scored an 8.2 on the 10-point scale. The closer these scores are to 10, the better.
McDonald's, Wendy's Five Guys, and Carl's Jr. didn't perform well. They all scored 5.0 and below on Gambling.com's scale.
Here are the top 10 overall health rating scores, according to Gambling.com's metrics:
Whataburger – Whataburger with cheese: 8.4
In-N-Out Burger – Cheeseburger: 8.2
Checker's/Rally's – Checkerburger with cheese: 6.3
Culvers – ButterBuger Cheese: 5.7
Del Taco – Del Cheeseburger: 5.5
Dairy Queen – Original Cheeseburger: 5.2
Carl's Jr./Hardee's – Small Cheeseburger: 5.0
McDonald's – Cheeseburger: 5.0
Five Guys – Cheeseburger: 4.8
Wendy's – Jr. Cheeseburger: 4.6
Click here to find an In-N-Out Burger close to you.
WATCH RELATED: New In-N-Out coming to National City; inside the plans to mitigate traffic